The laminated certificate mounted on the wall in classroom #3 at Luzerne County Head Start's (LCHS) Beekman Street center in Wilkes-Barre is a small reminder of the hard work that associate teacher, Jessica Cartagena, put into making her dream a reality.
The former Head Start parent, and mother of two, recently completed her Child Development Associate (CDA®) certification through the National Head Start Association (NHSA). Jessica began her career at LCHS as a part-time classroom substitute in 2018 at LCHS's former Pittston Primary location.
"I learned about the substitute position after speaking to my son's Early Head Start family educator who knew about my love for children. However, obstacles with childcare made it difficult for me to commit to a full-time employment opportunity. I was offered a part-time position that fit my schedule perfectly."
In 2021, Jessica relocated to the Plains Head Start Center, where she served as the classroom aide. Jessica's bilingual abilities were especially useful to help Spanish speaking children in the classroom. She says the experience she had while working there made her want to further her education.
"I watched the way the teacher helped the children. It motivated me to want to do better. She taught both my children, but also gave me the confidence I needed to achieve my goal."
Jessica learned about the opportunity to receive her CDA® certification through the online course with NHSA. Earning a CDA® credential demonstrates educators' knowledge, skills, and abilities in the early childhood education field as well as their commitment to professional development. Traditionally, LCHS offers employees the opportunity to receive their CDA® certification through an in-person program with Keystone College. Due to implications from COVID-19, the course was not available to LCHS employees this past year. The online course was paid for through LCHS's professional development program.
Jessica said the program was rigorous, but the support she received helped her to successfully complete the online course.
"My experience with the program was challenging at first, because I prefer in-person learning. However, NHSA's team was very helpful and never hesitated to answer my questions. I also received a lot of support and encouragement from my managers and co-workers."
As she worked toward earning the certification, Jessica credited her own children with helping to keep her motivated.
"They would say to me, 'Mommy, you can do it.' This is what I always tell them, so hearing them coach me kept me moving toward my goal. I wanted to show them that you are never too old to go to school and that hard work is often rewarded with success."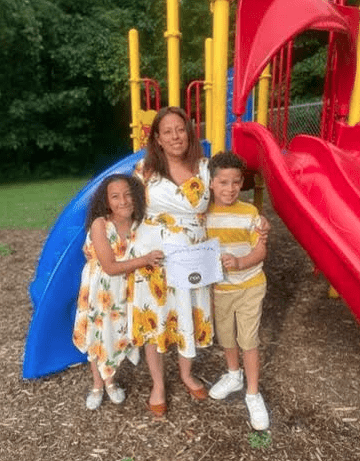 The reward for her hard work paid off. Jessica was one of three early childhood education professionals in the country and the first staff member at LCHS to complete the coursework needed to earn the CDA® certification through NHSA's program. She finished the coursework in just 4 months. 
"I am grateful for the continued learning opportunity that LCHS provides to staff. My co-workers taught me how important it was to not give up, even when the work seemed overwhelming. I am thankful for their support in helping me to complete this journey."
This past fall, Jessica accepted the associate teacher position in classroom #3 at LCHS's Beekman Street center. She works alongside her classroom's teacher, Miss Katie. Jessica says that she hopes to eventually earn her associate degree in Early Childhood Education.
Jessica was recognized by the National Head Start Association during a webinar in November for her outstanding achievements. LCHS would like to congratulate Jessica on being the first employee to receive her CDA® through NHSA's online certification program.